Rock'n Fish
Springing from the rich tradition of its Manhattan Beach origins, Rock'n Fish makes it's way to downtown and into the heart of L.A. LIVE. Signature items from the original Rock'n Fish (and its predecessor, Hibachi Restaurant), such as the Navy Grog, Teriyaki Chicken, Sticky Rice, and Hibachi Dressing, have been preserved in Rock'N Fish L.A. LIVE's steak and seafood menu. Quality prime beef and the freshest fish (brought in daily) are the cornerstones of a menu anchored in tradition and nuanced with Asian and regional American influences. Enjoy our house specialties such as the Oak Grilled Artichoke, Blue Cheese Wedge Salad, BBQ Shrimp and Kapalua Ribeye.
Go Dodgers!
Show your Dodger tickets, and enjoy a $5 Budlight Beer and complimentary Sweet Chili Calamari!*
*With purchases of 2 entrees. Limit one per table. Valid on home game days.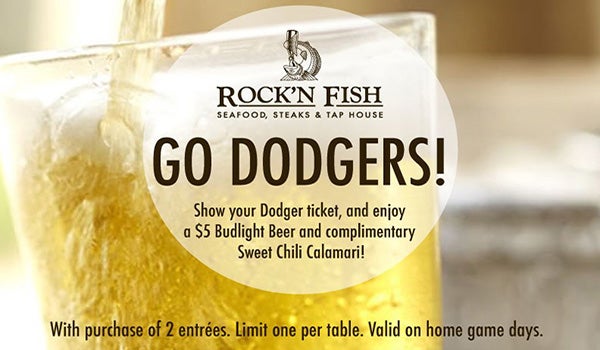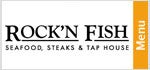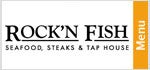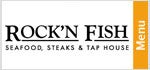 Restaurant Information
Rock'n Fish
800 West Olympic Boulevard
Los Angeles, California 90015
rocknfishlalive.com
Phone: (213) 748-4020
HOURS OF OPERATION
Mon - Fri: 11:30 AM - Close
Sat - Sun: 12:00 PM - Close
HAPPY HOUR
Summer Happy Hour is available every day, 3:00 PM - 6:00 PM.
Newsletter
Exciting offers, pre-sale notices and exclusive contests.