Rock'n Fish
Springing from the rich tradition of its Manhattan Beach origins, Rock'n Fish makes it's way to downtown and into the heart of L.A. LIVE. Signature items from the original Rock'n Fish (and its predecessor, Hibachi Restaurant), such as the Navy Grog, Teriyaki Chicken, Sticky Rice, and Hibachi Dressing, have been preserved in Rock'N Fish L.A. LIVE's steak and seafood menu. Quality prime beef and the freshest fish (brought in daily) are the cornerstones of a menu anchored in tradition and nuanced with Asian and regional American influences. Enjoy our house specialties such as the Oak Grilled Artichoke, Blue Cheese Wedge Salad, BBQ Shrimp and Kapalua Ribeye.
Summer Weekday Lunch Special
Can't decide what to do for lunch?! Rock'n Fish is offering an amazing summer weekday lunch special that you need to check out! » Menu

Summer Sunday Special

BURGER & BREW TUESDAYS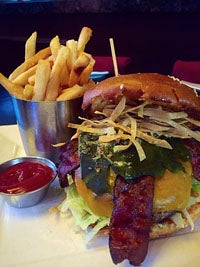 Join Rock' N Fish LA LIVE for Burger & A Brew Tuesdays! Every Tuesday night come in for our delicious Roasted Poblano Cheeseburger with a local beer for just $14.95!
Roasted Poblano Cheese Burger | smoked applewood bacon, cheddar cheese, shredded iceberg, tomato, spicy remoulade |
List of beers include Strand 24th St Pale Ale - Iron Triangle IPA - Angel City Lager - Golden Road Get Up Off That Brown
Restaurant Information
Rock'n Fish
800 West Olympic Boulevard
Los Angeles, California 90015
rocknfishlalive.com
Phone: (213) 748-4020
HOURS OF OPERATION
Mon - Fri: 11:30 AM - Close
Sat - Sun: 12:00 PM - Close
HAPPY HOUR
Happy Hour is available from Monday - Friday, 3:00 PM - 6:00 PM. Enjoy $5 select wines by the glass, premium well drinks, and cocktails. We also offer $2 off all draught beers. Select appetizers are $5 off!
Newsletter
Exciting offers, pre-sale notices and exclusive contests.