Patxi's Pizza
*SUBJECT TO CHANGE DUE TO COVID-19. FOR LATEST HOURS AND INFORMATION CALL RESTAURANTS DIRECTLY.
Patxi's is open for limited capacity indoor dining, outdoor patio dining, takeout and delivery.
To place your pickup and delivery orders visit www.patxipizza.com. » View Menus
For takeout orders L.A. LIVE offers 30-minutes of free parking in East Garage, West Garage and Lot 4. » Parking Information
*$30 minimum order required for free delivery.
Schedules and services subject to change. Please check back for the latest information.
Piadina Mondays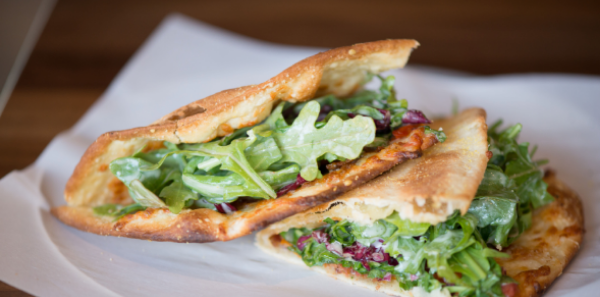 On Mondays only, when you buy one Italian Flatbread-Piadina, you get a second for 50% off! Use code PIA50 when ordering online!*
*This offer cannot be combined with any other offers or discounts and is not valid for third-party delivery vendors. Valid on Mondays only.
Date Night Wednesday
Need dinner plans for you & your partner? Stop by Patxi's Pizza!
For $50, you'll receive
1 10" Specialty Deep Dish Pizza
2 Starter Salads
1 Dessert Pizza of choice
1 Bottle of House Wine
Available every Wednesday.
About Patxi's
Patxi's Pizza is a California Born Brand with award winning traditional recipes. We have been serving homemade recipes, and quality ingredients Since 2004 with love! Come join us, and "Eat, Drink, and be happy with family & friends at Patxi's!"

Downtown LA is excited! See what EATER LA had to say about Patxi's at L.A. LIVE!
Restaurant Information
Patxi's Pizza
800 West Olympic Boulevard
Los Angeles, California 90015
Hours of Operation
Indoor/Outdoor Dining Hours
Sun - Thurs: 12 p.m. - 7 p.m.
Fri - Sat: 12 p.m. - 9 p.m.

Takeout & Delivery Hours
Sun - Thurs: 12 p.m. - 7 p.m.
Fri - Sat: 12 p.m. - 8 p.m.