Fleming's Prime Steakhouse & Wine Bar
*SUBJECT TO CHANGE DUE TO COVID-19. FOR LATEST HOURS AND INFORMATION CALL RESTAURANTS DIRECTLY.
Dine-In
We are open for dine-in Sun - Thurs 4 p.m. to 9 p.m., Fri - Sat 4 p.m. - 10 p.m. View Menu
To learn more about the changes we are making to ensure your safety please go here.
Takeout
Fleming's is accepting curbside pickup Sun-Thurs 12 p.m. to 9 p.m. and Fri-Sat 12 p.m. - 10 p.m. Click here to place an order for curbside pickup, to place a takeout order call 213-745-9911. View Menus
For takeout orders L.A. LIVE offers 30-minutes of free parking in East Garage, West Garage and Lot 4. Parking Information
Delivery
Delivery is available Sun-Thurs 12:30 p.m. to 8:30 p.m. and Fri-Sat 12:30 p.m. to 9:30 p.m.! You can place an order for delivery on Uber Eats.
Schedules and services subject to change. Please check back for the latest information.
Filets of Fall Menu
For a limited time, enjoy a 3-course meal with a Fall-inspired Filet!
Your meal includes a Harvest Salad, a Fall Filet, and a Sticky Date Pudding. Your Fall Filet options are:
PETITE FILET MIGNON & NEW ORLEANS BARBECUE SHRIMP* | 68 8oz filet mignon topped with a trio of sautéed shrimp in a spicy Worcestershire sauce
PETITE FILET MIGNON & WILD MUSHROOM RAGOUT* | 63 8oz filet mignon topped with a gruyère au gratin mushroom medley & parmesan crisp
PETITE FILET MIGNON & BLUE CHEESE CRUST* | 63 8oz filet mignon topped with danish blue cheese & fig demi-glace
Tomahawk Tuesday
Take on our 35oz Prime Tomahawk broiled at 1600° and pair it with two salads, two sides, and two desserts. Available every Tuesday for $135. Reserve Your Table Today.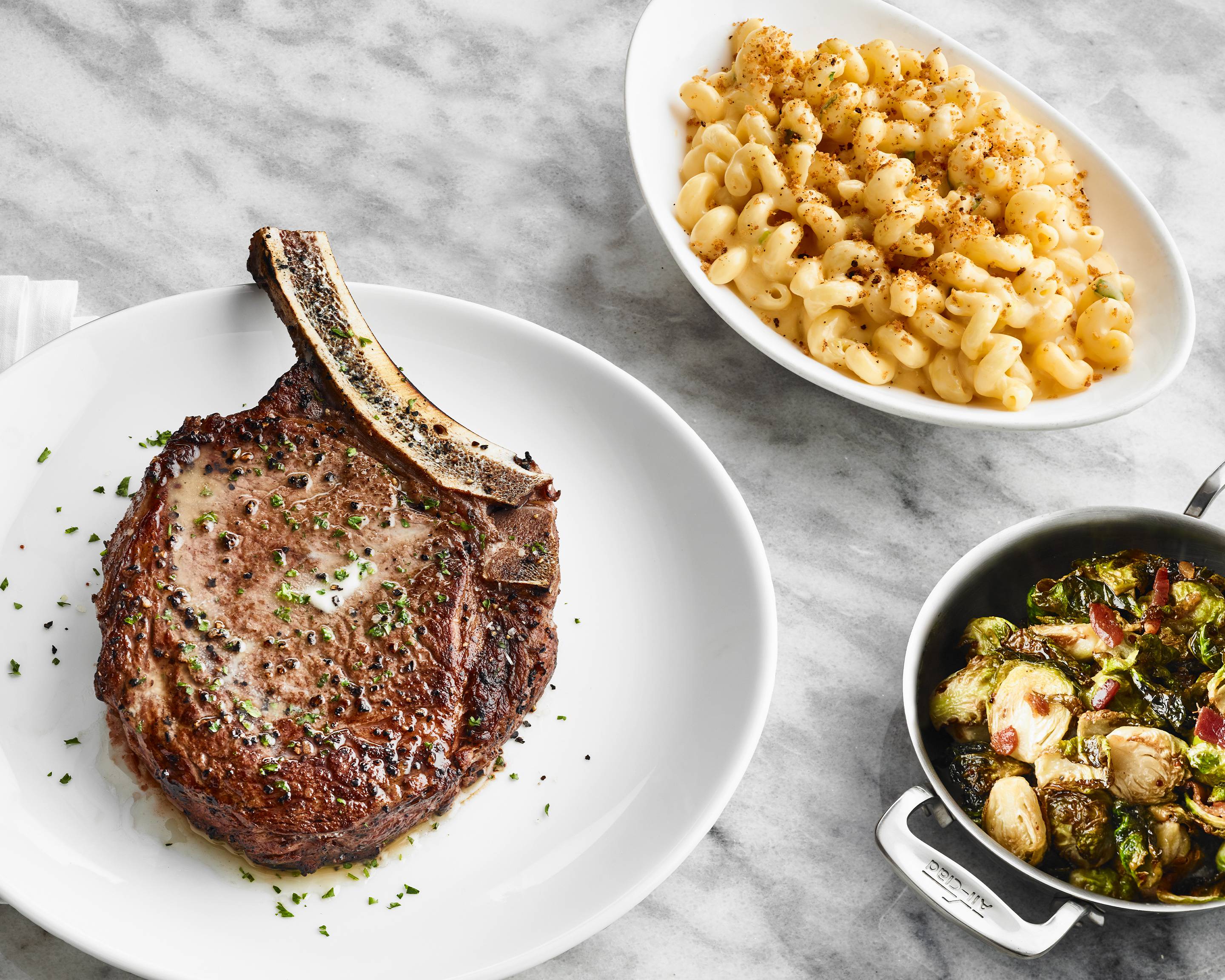 About Fleming's Prime Steakhouse & Wine Bar
Located across from STAPLES Center and the Los Angeles Convention Center on Olympic Boulevard, Fleming's in L.A. LIVE is an outstanding choice for pre- and post-event dining, business dining and private entertaining in Los Angeles. Join us and share in our passion for steak and wine. Experiment with our award-winning list of 100 wines by the glass and indulge in exceptional steaks, all served with unrivaled hospitality.
PARKING VALIDATION
Each L.A. LIVE business determines their own rules regarding validation. Please call the business directly to inquire about the terms for parking validation. View a parking map.
Restaurant Information
Fleming's Prime Steakhouse & Wine Bar
800 West Olympic Boulevard
Los Angeles, California 90015
flemingssteakhouse.com
Phone: (213) 745-9911
HOURS OF OPERATION
Main Dining Room
Sun-Thurs: 4PM-9PM
Fri & Sat: 4PM-10PM

Curbside Pickup
Sun-Thurs: 12PM-9PM
Fri & Sat: 12PM-10PM

Delivery
UberEats & DoorDash
Sun-Thurs: 12:30PM-8:30PM
Fri & Sat: 12:30PM-9:30PM