Now Playing: 'The Hunger Games: Mockingjay - Part 2'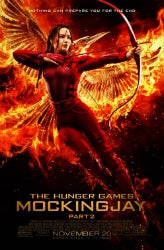 About The Film
As the war of Panem escalates to the destruction of other districts by the Capitol, Katniss Everdeen, the reluctant leader of the rebellion, must bring together an army against President Snow, while all she holds dear hangs in the balance.
Coming Thursday, December 17th: 'Star Wars: The Force Awakens'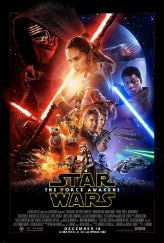 About The Film
A continuation of the saga created by George Lucas and set thirty years after Star Wars: Episode VI - Return of the Jedi (1983).
Today's Premiere Cinema Feature
The Hunger Games: Mockingjay - Part 2 (2015)
Genre: Action_Adventure, Drama, Family, SciFi_Fantasy
Synopsis: After being symbolized as the "Mockingjay", Katniss Everdeen and District 13 engage in an all-out revolution against the autocratic Capitol.
Rating: PG-13
Showtimes: 7:30 PM | 10:50 PM
4DX at Regal L.A. LIVE
Regal Cinemas L.A. LIVE is now home to the first 4DX theater in the United States! Experience the biggest blockbusters like never before with 4DX technology! The 4DX auditorium features motion seats and special effects including wind, fog, mist/rain, scents and more that perfectly synch to the on-screen action.
» Learn More About 4DX Technology
» Follow 4DX on Facebook
4DX Effects
Heave
Vertical movement of the seats.
Roll
Sideways tilting of the seats.
Pitch
Forward and backward rocking of the seats.
Environmental Effects
In addition to the movements, the theater is equipped with environmental effects to further enhance the experience. From a malicious storm to a gentle breeze, from the smoky explosions to the warm smell of coffee, the 4DX technology enhances these experiences with appropriate effects. » More Info
Host a Private Event
L.A. LIVE is the perfect place for your group meetings, party or convention. Choose from many elegant spaces.
Learn More